Activism for Ethical Societies: Navigating the Ins and Outs of Non-profit Resistance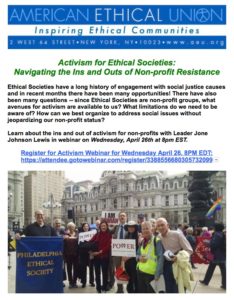 Ethical Societies have a long history of engagement with social justice causes and in recent months there have been many opportunities! There have also been many questions — since Ethical Societies are non-profit groups, what avenues for activism are available to us? What limitations do we need to be aware of? How can we best organize to address social issues without jeopardizing our non-profit status?
Learn about the ins and out of activism for non-profits with Leader Jone Johnson Lewis in webinar on Wednesday, April 26th at 8pm EST.
After registering, you will receive a confirmation email containing information about joining the webinar. Recording will be available afterwards.