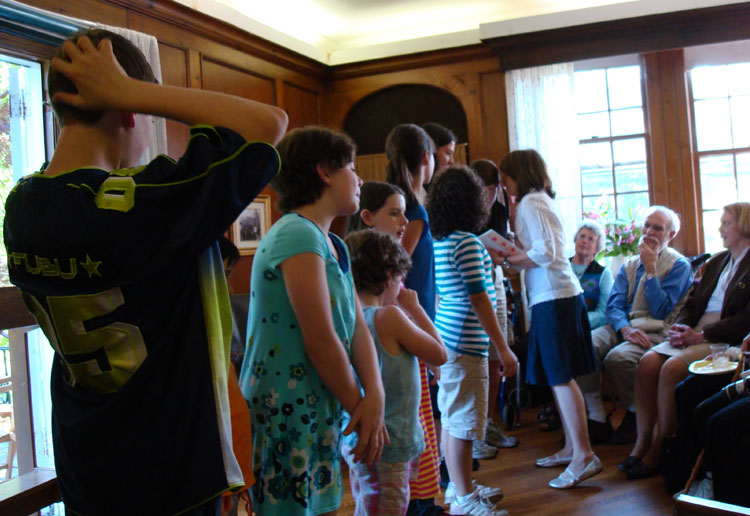 "Ethics Is Our Religion."
Our Sunday Ethical Education program for children is based on Core Values which stress the importance of individual worth and responsibility.  Our children are taught to respect one another, to respect the earth, and to become a vital part of the community.  The children start the Sunday Platform with the entire membership – hearing a brief description of the adult platform topic – and then retire to pursue their own ethical education in a safe and separate space.  Come visit us and see what the Ethical Culture experience can provide for your family. Babysitting available.
---
Educational Philosophy
Ethical Education for Children (EEC) has been central for Ethical Culture since our founding in 1876. Our classes take place on Sunday morning and run concurrently with the adult program. Our children participate in our Festivals, at times provide music for the adult meetings, and in the spring prepare and present a full Sunday Platform – the Children's Platform. There are also other activities such as community service, picnics, field trips, sleep-overs at the Society, etc.  When the child is in 8th grade there is a final graduation project culminating in a presentation by the graduate to the membership.
Ethical Culture Core Values
Ethics is my religion.
Every person is important and unique.
Every person deserves to be treated fairly and kindly.
I can learn from everyone.
I am part of this earth; I cherish it and all life upon it.
I learn from the world around me using my senses, mind and feelings.
I am part of the world community, which depends on the cooperation of all people for peace and justice.
I can learn from the past to build for the future.
I am free to question.
I am free to choose what I believe.
I accept responsibility for my choices and actions.
I strive to live my values.
We offer a child-centered, humanist approach to:
Exploring positive values;
Respecting Individuals;
Inspiring social responsibility;
Celebrating both individual difference and cultural diversity;
Building community through social action;
Developing leadership skills;
Fostering independent thinking;
Encouraging ecological concerns;
Learning about other religions and cultures;
Appreciating a naturalistic, scientific approach to knowledge and understanding.
Here is an example of an Ethical Experience Lab discussion and creative session:
Communication interaction: Standing in a circle
"Turn to the person next to you and say something about them that is different and special  – something that makes you appreciate them for just that difference."
Values Discussion:
One of our core values is the idea that every person is important and unique. When we meet someone who is different than us how do we respond? What do we think? What do we ask them about themselves that helps us to know and understand them better despite our differences? What can we learn from them? What can we share with them about ourselves to make our connection with them a positive experience for both of us?
Creative time:
I have a handful of little objects – each of them is different and unique – some are things and others are little people or creatures. I want you to select at least one but you can select more if you like and create a story about how their differences effect them and the world you create for them.  Today we will create collages using magazine cutouts as well as drawing pictures and writing words to tell our stories.
Please make inquires with the Office Manager, esnw@esnw.org, or call 914.941.3544 to talk about how your child or teen may best fit into our classes.